Today, the lovely Brittany Fichter has joined us for a delightful Q&A about her books, Cinderella, and Kindness. Brittany is an absolute delight, and her email sign off is one of my favorite bookish quotes: "But some day you will be old enough to start reading fairy tales again." – C.S. Lewis
(And if you're reading this on the day it goes out, be sure to check her blog for Once Upon 2023: A Celebration of All Things Fairy Tale!)
Tell us about your fairytale retellings and why you chose to write in this genre.
I write in several fairy tale worlds, so my magic systems tend to differ, but every single one has clean romance combined with deep character arcs. My worldbuilding tends to be rather detailed as well, as I grew up reading a lot of old (British) literature, which is probably why my readers say my stories have a feeling similar to Narnia or Lord of the Rings. And, of course, there's snark. Because I'm incapable of communicating without some sort of sarcasm.
As for their origins, I started writing fairy tale retellings in 2015 because there weren't many to be found. I'd devoured Gail Carson Levine's books as a child and had moved on to Robin McKinley's books, but there weren't many more beyond that. My first book, Before Beauty, however, happened somewhat as an accident. I was reading Stephen King's On Writing and was doing some of his author exercises. The prompt was to try writing something I would never ever dare write anywhere else and that I would never show anyone. I knew I wanted to write fairy tales, but I was sure my writing wasn't good enough for any fairy tale yet, least of all, Beauty and the Beast. But as soon as I started writing, my beastly character Everard was born, and I realized I needed to see where his story went. And after that, I was hooked.
"As soon as I started writing, my beastly character Everard was born, and I realized I needed to see where his story went. And after that, I was hooked."
How does the theme of kindness fit into your books?
I focus more than anything on love – giving or doing what someone needs, even when it's inconvenient or hard…or rejected. Because my characters often face difficult decisions, it's easy to become embittered or to self-isolate. My characters are not allowed to wallow in their pain but are forced to choose to help others. And really, that's what many of my character arcs boil down to: choosing to love.
Tell us about your Cinderella retelling. Why did you choose this fairytale and what makes your adaptation unique?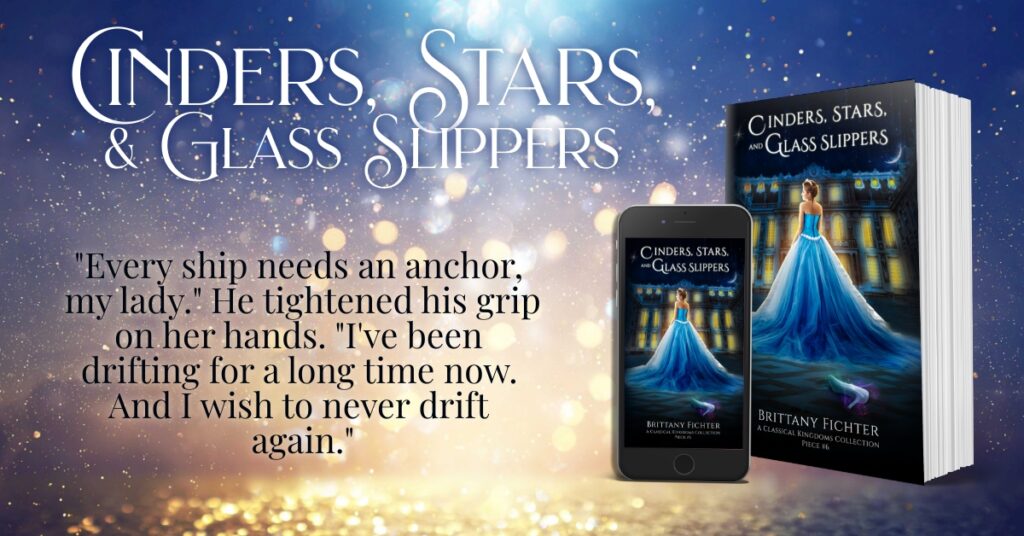 Cinderella is my favorite fairy tale of all time, more than anything because she does what's right and kind, even when others are treating her terribly. I also wanted, however, for my version of Cinderella to go on adventures. This meant she needed to be spirited and resilient, able to strategize and play politics without being ruled by them. So what better way to give her those qualities than to raise her on a military naval vessel? It served as a fantastic way to shape her so she could see through the court games when she was finally required to live on land, exposed to court backstabbing and politicking. Not only that, but she finally is forced into servitude, she must have enough resilience to withstand it without breaking…all the while, making the choice to love another, weaker soul before herself.
How has moving around the country via the Air Force influenced your writing?
I'm the kind of creator who needs to have new adventures and experiences on a pretty regular basis to keep my creative wells filled. So constantly seeing new sights and meeting new people is something I revel in. The nature of military life, however, is also sobering, and the sacrifices that real military families make are often reflected in the choices and sacrifices my characters make as well. The men and women of the military have sworn to protect and serve even if it means dying. Dying to self, as the Bible says, is the way to love. And that's a theme that appears in nearly every book I write.
"The nature of military life, however, is also sobering, and the sacrifices that real military families make are often reflected in the choices and sacrifices my characters make as well."
If you could step into the realm of fairytales, would you? What aspect of this world would you be most eager to explore?
I'd definitely go because I want to see magic. But I'd also echo Leila, Queen of the Night Court in K.M. Shea's Magiford books, and I'd bring my sidearm and my own bags of snacks.
Can you tell us more about your different series?
My Classical Kingdoms Collection is my main fairy tale series. They're all set in the same world, but most of the books can be read as standalones. (Books #1-3 and the Neverland Duology being the exceptions.) With the magic of Narnia and the romance of fairy tales, each book has clean, passionate romance, magical mystery, and heroic happily-ever-afters.
The Nevertold Fairy Tale Novellas (my newest series) are lesser-known fairy tales as retold by Peter Pan and Wendy from my Neverland Duology, but they have the same clean romance and magical mystery as the Classical Kingdoms Collection. Just in more…bite-sized chunks.
My Air Force Fairy Tales are my clean contemporary fairy tale-themed military romances. While not retellings outright, each love story has a theme specifically linked to a beloved fairy tale. Because these stories are contemporary, however, (and set in a military location I've lived or visited), they have a lot more room for modern snark and humor than I can put in my more traditional medieval fantasies. Even my fairy tale readers who dislike contemporary romance say they enjoy these.
The Autumn Fairy Trilogy reads like an original fairy tale. Forbidden love, mysterious magical origins, ancient lore, and epic battles between good and evil make this trilogy a whirlwind of adventure.
The Legacy of the Time Stones Trilogy has, according to some of my readers, a very Tolkien feel to it. With mythical creatures from nearly every major world culture, it was fun to craft a dragon shifter-human romance, a deep, ancient magic, a hundred-year curse that must be broken, and a band of unlikely friends who are Solevar's only hope. And all burdens rest on the shoulders of one human girl and the dragon prince who protects her.
The Illustrated Fairy Tale Classics are my children's fairy tale picture book series. I researched the original stories heavily to write these as true to the first tales as possible, while still giving them a whimsical (and child-appropriate) world in which children and parents alike can fall in love with these stories again and again. (And they were all just made into audiobooks, as well!)
The Rose of Destiny is my next young adult epic fantasy trilogy. I can't say too much about it yet, except that there's going to be the moon magic of the fae, the sun magic of the mages, a powerful silver rose, and a love that must withstand the test of time.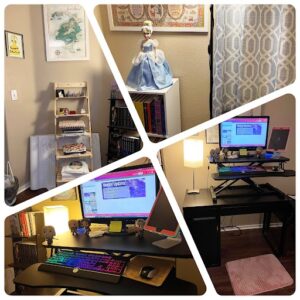 What does your writing space look like?
Since moving into our current rental house, for the first time in my life, I have an office!!! (Which means my poor hubby's desk is surrounded by nerdy fairy tale author things.) I work at a standing desk, which I absolutely love, and bookshelves seem to magically populate in there without my permission. Also, my keyboard lights up. Which is apparently a gamer thing. I am not a gamer, but it has colors, and I like that.
What do you want readers to take from your books?
Embedded in nearly every book is the theme of a sovereign purpose in life. I believe that God created each of us with a unique purpose and design. And all too often, we aren't inclined to follow that purpose. We resist the call. But suffering, while inevitable, shapes us and refines us. If we, like the heroes we love, resist evil and seek what is good, we will become what we ought to be. Maybe we don't carry swords, but we can do what's heroic when the need arises.
I believe that God created each of us with a unique purpose and design.
You're running a massive Fairytale Event on your blog today. What can readers expect there?
Once Upon 2023 (formerly 2021 and 2022) is really just a fun way to celebrate all things fairy tale. What's new this year, however, is the location. One of the biggest complaints from previous events was that people who weren't on Facebook couldn't enjoy the fun. We're fixing that in 2023, and for the first time, it's going to all take place on my website where everyone is welcome. Really, the goal is to create an online experience where readers can really soak in all their favorite happily-ever-afters while knowing others like them are doing the same from all over the world. Each author brings her own fun personality and creative abilities to the table, and we see all sorts of things like funny fairy tale videos, printable coloring sheets, personality tests, fairy tale knowledge quizzes, and more! And best of all? Clean fairy tale authors from all over the world (even those who aren't hosting their own event) are pooling together one of the biggest fairy tale sales and book giveaways in the world! Come for fun…and leave with a ton of new books.
What's next in store for you?
This year is going to be an exciting one! I'll continue working on the Rose of Destiny Trilogy, as well as the Nevertold Fairy Tale Novellas, and hopefully, a new My Air Force Fairy Tale romance. I'm also doing a MAJOR rebranding for my Classical Kingdoms Collection and recovering every single book in the series. Which is a lot. Lol. And finally, I'm really trying to get my readers used to shopping on my personal bookstore, where I can give my readers discount codes, signed print copies, merch, and other fun personalized gifts I can't give them anywhere else. Really, the sky's the limit!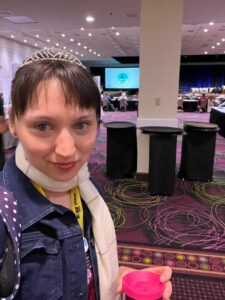 Author bio:
Brittany lives with her Prince Charming, their little fairy, and their tiny prince in a decently clean castle in whatever kingdom the Air Force has most recently placed them. When she's not writing, Brittany can be found belting it in the church choir and chasing her kids around with her DSLR.
You can find more of her work at her website BrittanyFichterFiction.com.